As a foodie, I'm not even ashamed to admit how much of my life revolves around food. It is something that brings me joy every day, and whenever I visit home my itinerary is indeed largely built around what Finnish foods shall I eat on each trip, with many foods having recurring appearances.
It's a list that absolutely drives mom bollocks, especially if I'm only visiting for a short amount of time like I have for the past three and a half years, but how could I possibly let myself miss out on those amazing food experiences? More than that, how can YOU?!
Here's a list of the Finnish foods I can't live without and you absolutely gotta try at least once in your life:
1. MUIKKU
If and when you're in Finland, and you visit a market, no matter which part of the country you're in, the food you gotta order is a plate of fried muikku, aka fried vendace, either in a box on its own or with a side of steamed, delicious vegetables. I just had it this summer for the first time in nearly 20 years and with every bite I kept questioning myself for why it'd taken me so long to have it again!!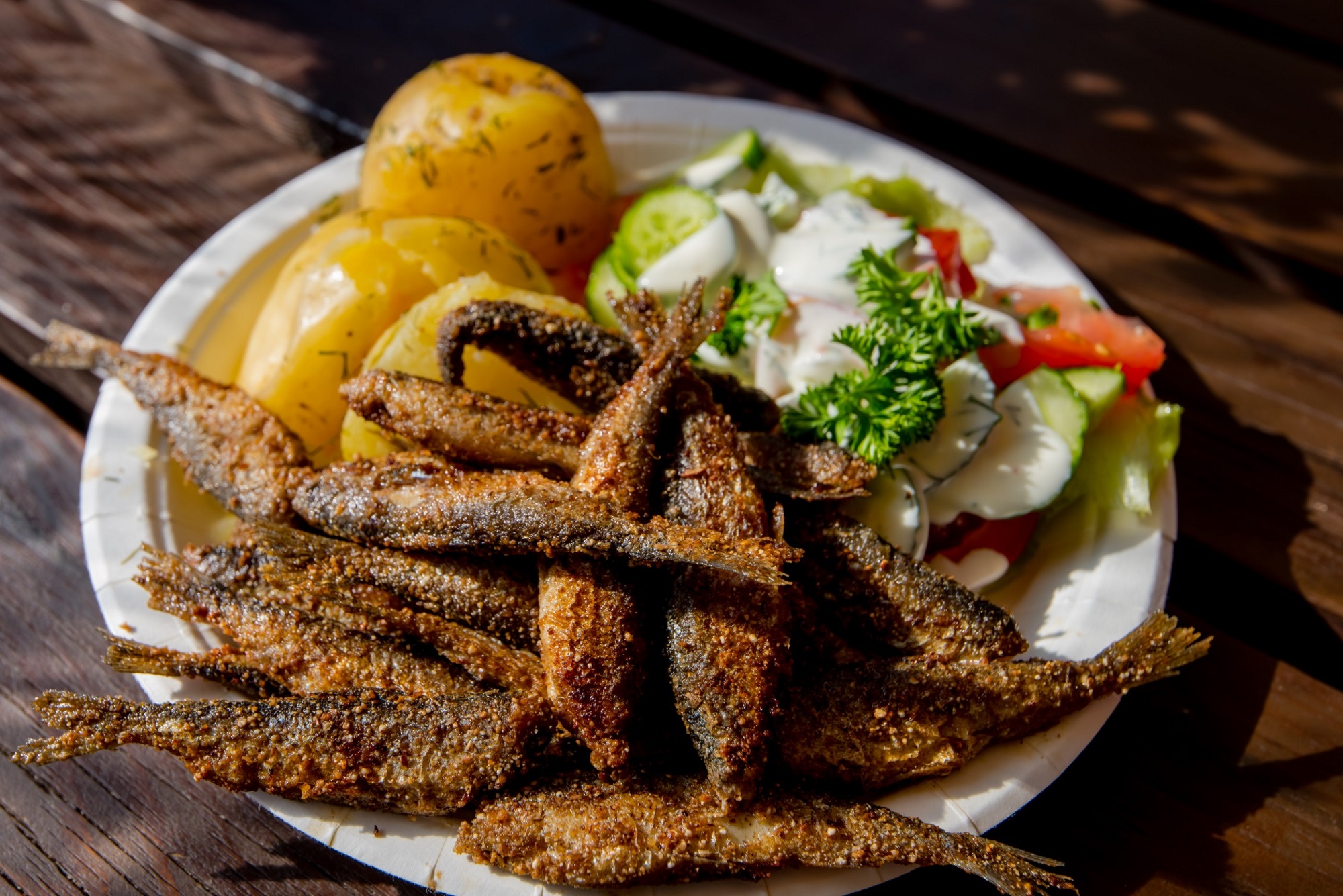 02. UUNILOHI JA PERUNAMUUSI
My absolute #1 Finnish food is oven salmon with mashed potatoes. It depends on each family, or restaurant, how they whip together the salmon, but in my family we put seasoned cream cheese and shrimp on top, and it tastes like heaven. Heaven, I say! Salmon and potatoes in general are widespread, common and basically national foods in Finland so if there's just one thing you got to eat while you're there, this'd be it.
03. VOILEIPÄKAKKU
If you're tired of eating sandwiches, and especially if you're not, why not try eating it in cake form? How fun would that be! Voileipäkakku aka Smörgåstårta aka Sandwich Cake may have originated in Sweden, but to this date it's popular to eat among Finns, especially during celebrations and family gatherings. I remember it being a tradition to serve it, usually hand made, at birthdays of our family members, as well as other parties such as school graduations. The fillings for us would most often be one with ham and another with salmon/tuna and shrimp, but it's up to whoever makes it to decide that, there isn't just one way that you have to stick to in order to create the amazingness that is voileipäkakku. Personally, I have requested this to be bought or made whenever I visit home, even if there isn't otherwise any celebrations happening – I mean, isn't my arrival celebration enough?!
04. KARJALANPIIRAKKA
Karjalanpiirakka, known as Karelian pie abroad, is a traditional savory pastry from the Finnish region of Karjala (of which a big part belongs to Russia now). It's usually made of rye and rice, but other variations exist. And if you want to make it even more delicious than it would be on its own, or with some butter, slap some egg butter on top and you've got the perfect breakfast in your hands! I occasionally even add smoked salmon on top of it because YUM. If you don't want to go through the trouble of making the egg butter from scratch on your trip, at the buffet of Konstan Möljä, you can find this treat to stuff yourself with alongside with other popular Finnish foods.05. SISKONMAKKARAKEITTO
A lot of traditional Finnish soups have the same base ingredients: potatoes, carrots, turnips, and celeriac. It's quite genius, actually, that you can always keep the same base ingredients even if you change which meat to use. Most commonly, it's either minced beef, salmon, or siskonmakkara which is a type of sausage, the latter being my favorite. I don't mind the others, and quite enjoy the fact that they're the easy to recreate wherever in the world I am, but there's something specifically in siskonmakkara soup's taste that speaks to me. And since it's also the most unique of the soups, in a worldwide context, it's got to be the one that I suggest for people to try! Don't worry, there's nothing scary about it! Unless, of course, you're scared of flavors?
06. RUISLEIPÄ
Another food that Finland is pretty kickass at making, besides chocolate, is bread. What is especially available and popular in Finland, while might not be easy to find abroad – and even if you do the quality isn't the same, is rye bread. If you go to a Finnish restaurant and order a soup, it's likely offered on the side, in which case you'll eat it as is or with some butter. If you buy it from the store, you may want to add a bit more to it, whether you'll eat it as a side to a soup or as a wholesome breakfast. Personally, what goes on top of my rye bread is butter, lettuce, cheese, and either smoked salmon or tomatoes. And if only I could have this bread with me here in Korea, and if only I could eat a breakfast like this every day, my life would be damn near perfect. For example, Kosmos, a famous and old traditional Finnish restaurant in Helsinki, bakes pretty killer tasting rye breads.
07. MAKARONILAATIKKO
Macaroni casserole, usually made with macaroni and milk and minced beef, is another traditional Finnish food you can easily find on the dinner tables of Finnish families. It's fairly simple, but don't let that fool you – it is definitely delicious when made right! I love my mom's, and my grandmother probably made the best tasting one there ever was in this world. If you want to add a bit more flavour to it, just add a pinch of ketchup and you're good to go. Or, you can be like me, and mix some blue cheese into it!
08. LEIPÄJUUSTO
Literally it translates to bread cheese, but more commonly it's called Finnish squeaky cheese in other countries. You'll know why if you give it a taste. And yes, it is indeed cheese, a special kind! You can buy it from the supermarket and then just pop it in the oven or microwave to be ready for eating. I've personally gotten accustomed to eating it either as breakfast or as supper, as it is and with some milk on the side, but I heard that it's also common in Finland to have it as dessert with jam or cream. Did I just get something new on my list to try out, as well?! The taste of this food is rather mild and pleasant, and it's certainly not something you'll find everywhere you go!
09. PULLAT
More so than cakes or cupcakes, what you'll find served as dessert in Finland, whether it's at a cafe or at home, are buns and equivalent pastries. Their outlook may not look as out there delicious as some of the wildest cakes do, but they've got enough taste in them to hold their own. If you're pressed for time and/or concerned with your waistline and can only try out a few, you should start off with the traditional favorites: voisilmäpulla (a regular bun with "butter" in the middle) and korvapuusti (a bun filled with sugar, cinnamon and butter). I began craving them just writing about them now!
10. PORO(PIZZA)
How about also indulging in some reindeer pizza while you're in Finland?! Well, maybe not, I'm afraid. It's delicious, that I can vouch for, but it might also be a trickier find. However, reindeer meat in general is a lot more accessible to locals and visitors, and through cooking classes, for examples, Finns are often eager to introduce reindeer meat with cranberry jam especially to foreigners in our country. A Lapland themed restaurant called Lappi Ravintola, located in Helsinki, also offers a selection of reindeer dishes for your pleasure. Not into reindeer meat? Then how about deer, bear, moose, or rabbit?! Trust me, you can count on it that you'll get to fill your stomach with a lot of interesting dishes if you're ever in Finland, even when they're not quintessentially Finnish foods.
11. LEHTIPIHVI
Also referred to as minute steak, this is my absolute favorite thing to go for whenever at a restaurant. It's possible, I guess, to find in other countries as well, but not where I reside, and so every time I visit home, if there's one trip to the restaurant I got to make, it's for this steak! It's a super thin steak, usually made of ox beef. It's served with seasoned butter on top, as well as fries or other kind of potatoes on the side, depending on where you are eating it at. You're best bet to finding this dish is at an ABC gas station.
The main downside to Finnish foods, in comparison to many other cuisines in the world, is that it's not as accessible in the restaurants. Largely, if Finns want to eat local food, they'll eat it at home. If we go out to eat, we eat international. Plus, prices of food in restaurants isn't the most affordable of all the countries, so we're not as accustomed to be eating out in the first place. So my recommendation to you would be: make local friends so you get to try out all the amazing foods Finland has that you likely never would have gotten to know about otherwise! You won't regret it, trust me! If you're in dire need, you may even call me to come and cook